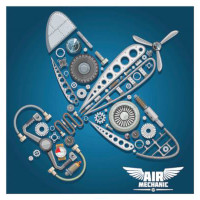 Lehigh Valley IA Renewal Seminar
The Allentown FAA FSDO provides an IA Renewal Seminar in the Lehigh Valley once a year. The Inspection Authorization Renewal Seminar meets the accredited 8 hours of IA Refresher Training under Title 14 CFR Part 65, §65.93(A)(4). Details for renewing your IA Certificate can be found at the following FAA webpage: Mechanics | Federal Aviation Administration (faa.gov).
The next IA Renewal Seminar is scheduled for:
Friday, October 25, 2024
At Wind Creek Conference Center
Bethlehem, PA 7:00 AM ~ 5:00 PM
The IA Renewal Seminar is sponsored by our corporate partners and industry professionals to provide this training free** of charge to licensed aviation mechanics and their apprentices.
If you would like to register to attend the 11th Annual IA Renewal Seminar on October 25, 2024, please email us at: Accounting@ScottRichardMX.com. Please include the following information:
Name (as it appears on your FAA Mechanic license)
Mechanic License Number (A&P or IA)
Email Address
Telephone Number
You will receive email confirmation of your registration and reminders prior to the event to provide you with updates and confirm your attendance. We also provide updates on our Facebook Page throughout the year at: IA Seminar – Aviation Maintenance - Lehigh Valley, PA
This event is monitored by the Allentown FAA FSDO and all participants are required to attend the entire 8 hours to receive their certificate.
Allentown FAA FSDO - http://www.faa.gov/about/office_org/field_offices/fsdo/abe/
** FAA License is required at check-in to be eligible for all drawings and prizes
Note: Seating is limited to licensed mechanics first. All others will be waitlisted and notified if seating becomes available.
Interested in Sponsoring the Seminar?
This Seminar is completely funded by our corporate partners and donations from our local aviation industry professionals throughout New York, New Jersey, Pennsylvania and Delaware. Sponsorship allows us to bring this seminar to over 150 mechanics, DOMs and industry professionals throughout the area "free of charge". Each year, our group grows as we are one of the last "in person" training events in the region.
If you are interested in supporting the Seminar by either corporate sponsorship or individual donation, please email us at Accounting@ScottRichardMX.com and we will send you our Sponsorship Information.